If money is tight and power is what you're looking for, you're going to want to see this!​
Recently we've had a lot of Eco-Boost Mustangs coming into our shop looking for the next big modification that will make their car a lot more enjoyable. As usual, we have done our research and we've come up with the best "bang for your buck" modification that will take your driving experience to a whole new level. As with most turbocharged cars, the new Eco-Boost Mustang suffers from too much pressure building up right after the turbos in the exhaust system. As most of you know, this is caused by the stock downpipe which happens to be very restrictive on this car. However, this leaves a lot of room for improvement!
Our friends over at Mishimoto have created the best possible downpipe configuration with just the right amount of flow to be able to unleash the true potential of your Eco-Boost Mustang! And here it is in all of its glory...
•Direct fit for the 2015+ Ford Mustang EcoBoost
•Extremely aggressive turbo and exhaust tone under acceleration and boost
•304 stainless steel 2-piece design allows for uninterrupted exhaust flow
•3" exhaust diameter for maximum flow
•Fits with both manual and automatic transmissions
•Includes stainless steel 2-bolt mounting flange to the turbo
•Additional wideband O2 sensor bung for aftermarket wideband sensors
•Mates with the stock cat-back exhaust or any aftermarket exhaust with a 2.25" mid-pipe
•Mishimoto Lifetime Warranty
It's a beautifully engineered piece and has proven VERY effective in providing power for your Eco-Boost motor. Every customer that has had the Mishimoto 3" Catless downpipe installed on their Eco-Boost Mustang has left with the biggest smile on their face! The sound and performance can not be compared to anything else! This downpipe is truly the best mod when it comes to the power to value ratio (as you can see from the dyno below) >
If money is tight, don't worry! You're in luck. Here at SSR Performance we have had so much interest in this product that we decided to do a special on it for a limited time!
For a limited time we will be offering a Part + Install Special on the Mishimoto 3" Catless downpipes!! These downpipes retail for $475.00 anywhere else, we will offer them for $450 and offer a VERY low install price of only $250!!​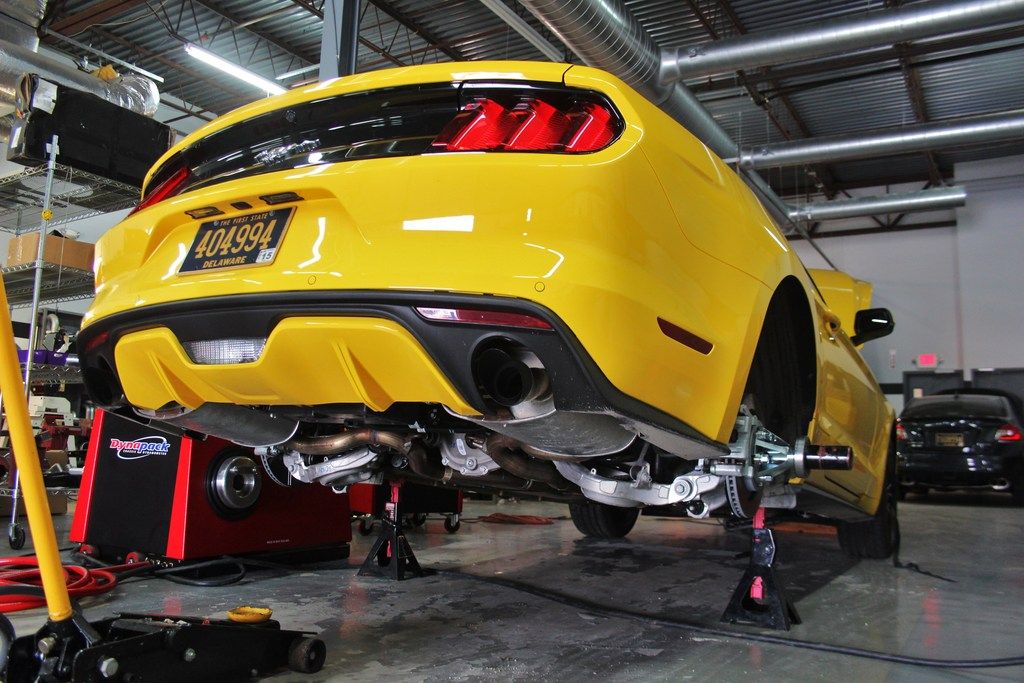 We are located in beautiful Huntington Beach, CA and we serve all of the Southern California region including (but not limited to) Los Angeles, Orange County, San Diego, and the Inland Empire. Call us, PM us, or e-mail us today to schedule an appointment!